Facebook Font Generator ➜#𝟙😍⚡ Copy ✂ ⓐⓝⓓ Paste 💕 Stylish Fonts For Facebook
Facebook Font Generator - 108+ 𝕮𝖔𝖔𝖑 and ⓢⓣⓨⓛⓘⓢⓗ text fonts for ✅ your Facebook Profile and name (Copy and Paste).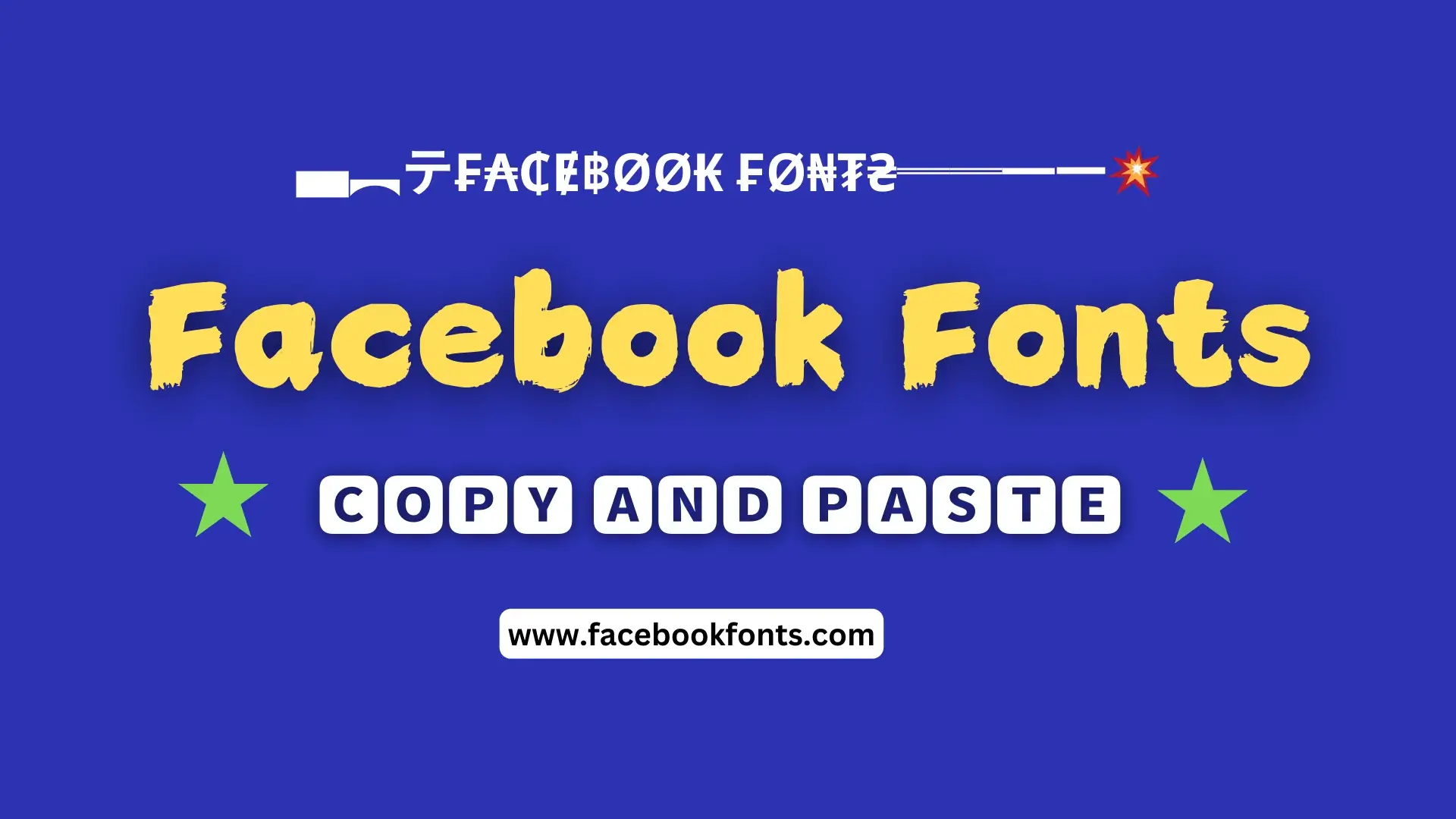 About FacebookFonts.com
Facebook fonts are a way to change the appearance of text on Facebook. They can make the text more stylish, creative, or unique. Many different Facebook fonts are available, and they can be used in various places on Facebook, such as posts, comments, and profiles.
To use Facebook fonts, you can use a Facebook font generator . A Facebook font generator is a website or app that allows you to type in text and then generate different Facebook fonts for that text. Once you have found a font that you like, you can copy it and paste it into Facebook.
Share it with your friends and family members, your classmates or a childhood friend you just reconnected with from years back, so they can see it on their profiles. Use Facebook Fonts right here!
User also read Privacy & Policy and DMCA for this website.
What is Facebook Font Changer?
Facebook Font Changer is a free tool to generate fancy text fonts which you can use on social media. This tool converts your normal texts into FB fancy texts with FB stylish symbols and letters. And you can easily copy & paste it with one click.
What are Facebook Fonts?
Did you know you can write Facebook status with different fonts instead of default font? To do so you need to visit Facebook Fonts and use the online tool. And you can also add emoticons and Facebook art into your statuses and comments.
Stylish Fonts For FB?
Stylish Fonts for FB is the most advanced free online tool to create fancy crazy fonts and different combinations of text and is used by millions of people around the world.
How to change Facebook text style?
Looking to change your Facebook text style or use stylish Facebook text on your social media platforms? So This tool is very helpful for you. Simply copy and paste the text into your social media pages.
What is a FB font changer or a FB font generator?
A FB font changer or FB font generator is a tool that changes your normal text to different font styles, like FB stylish fonts , FB crazy fonts, calligraphy, WordArt fonts, wedding fonts, pretty steam fonts, mirror text fonts, zalgo text fonts, etc. With the help of this FB font changer, you can convert your Facebook status stylish fonts , which give a different look to your profile or bio, or status.
Font changer for Facebook?
This font changer for Facebook includes a variety of font styles, including Creepy, Weird, Wavy, Aesthetic, Unicode, Cursed, Void, and so on.
How can I add facebook stylish font to my Facebook Profile?
Adding special fonts to Facebook Profile is made easy with the Facebook stylish font. Open the site on your phone. Type the desired Facebook Profile text into the text box and when you scroll down you can see a bunch of special Facebook Profile texts generated for you within no time. you just need to click on the copy button to copy them, then you can paste them to your Facebook status fonts by opening the app.
Facebook Fonts Style
Here are some of the most popular Facebook fonts:
| FB Font Style | Preview |
| --- | --- |
| Math sans | 𝖥𝖺𝖼𝖾𝖻𝗈𝗈𝗄 𝖥𝗈𝗇𝗍𝗌 |
| Math sans bold | 𝗙𝗮𝗰𝗲𝗯𝗼𝗼𝗸 𝗙𝗼𝗻𝘁𝘀 |
| Math sans bold italic | 𝙁𝙖𝙘𝙚𝙗𝙤𝙤𝙠 𝙁𝙤𝙣𝙩𝙨 |
| Math bold | 𝐅𝐚𝐧𝐜𝐲 𝐅𝐨𝐧𝐭𝐬 |
| Parenthesized | ⒡⒜⒞⒠⒝⒪⒪⒦ ⒡⒪⒩⒯⒮ |
| Regional Indicator | 🇫🇦🇨🇪🇧🇴🇴🇰 🇫🇴🇳🇹🇸 |
| Squared | 🄵🄰🄲🄴🄱🄾🄾🄺 🄵🄾🄽🅃🅂 |
| Squared (neg) | 🅵🅰🅲🅴🅱🅾🅾🅺 🅵🅾🅽🆃🆂 |
| Math bold script | 𝓕𝓪𝓬𝓮𝓫𝓸𝓸𝓴 𝓕𝓸𝓷𝓽𝓼 |
| Math double-struck | 𝔽𝕒𝕔𝕖𝕓𝕠𝕠𝕜 𝔽𝕠𝕟𝕥𝕤 |
| Math monospace | 𝙵𝚊𝚌𝚎𝚋𝚘𝚘𝚔 𝙵𝚘𝚗𝚝𝚜 |
| Circled | Ⓕⓐⓒⓔⓑⓞⓞⓚ Ⓕⓞⓝⓣⓢ |
| Circled (neg) | 🅕🅐🅒🅔🅑🅞🅞🅚 🅕🅞🅝🅣🅢 |
| Fullwidth | Facebook Fonts |
| Math bold | 𝐅𝐚𝐜𝐞𝐛𝐨𝐨𝐤 𝐅𝐨𝐧𝐭𝐬 |
| Math bold Fraktur | 𝕱𝖆𝖈𝖊𝖇𝖔𝖔𝖐 𝕱𝖔𝖓𝖙𝖘 |
| Math bold italic | 𝑭𝒂𝒄𝒆𝒃𝒐𝒐𝒌 𝑭𝒐𝒏𝒕𝒔 |
Facebook Script Text
Script Text is one of the fanciest text styles we have here. It gives a look of Facebook cursive text. the tool generates this style by using the Mathematical Script Characters and Some Script Characters that include ℬ, ℰ, ℱ, ℋ, ℐ, ℒ, ℳ, ℛ (Uppercase) and ℯ, ℊ, ℴ (lowercase). there is a Script Bold version too. Combining all these Unicode characters the text generated looks like Calligraphy.
Examples are 𝒞𝓊𝓇𝓈𝒾𝓋𝑒 and 𝓒𝓾𝓻𝓼𝓲𝓿𝓮 𝓑𝓸𝓵𝓭.
Facebook Gothic Text
Facebook Gothic Text is another cool-looking text. It looks like Old English Fonts, the symbols used to generate this text are Mathematical Fraktur Characters and some Black Letter Characters which include ℭ, ℌ, ℑ, ℜ, and ℨ. By using these Unicode Characters Gothic Text is made which can also be called Fraktur Text or Blackletter Text.
Examples are 𝔊𝔬𝔱𝔥𝔦𝔠 & 𝕲𝖔𝖙𝖍𝖎𝖈 𝕭𝖔𝖑𝖉.
Facebook Bold Text
With the use of some Bold Mathematical Unicode Characters, the tool generates some Facebook Bold Text styles. these styles include Bold, Bold Italic, Sans-Serif Bold, Sans-Serif Bold Italic, Gothic Bold, and Script Bold. Also another style Double-Struck gives a cool look similar to bold. This style is generated by using Mathematical Double-Struck Unicode Characters and some Double Struck Characters which include ℂ, ℍ. ℕ, ℙ, ℚ, ℝ, ℤ.
𝘽𝙤𝙡𝙙 𝙄𝙩𝙖𝙡𝙞𝙘 𝙏𝙚𝙭𝙩 , 𝐁𝐨𝐥𝐝 𝐓𝐞𝐱𝐭 , 𝕭𝖔𝖑𝖉 𝕲𝖔𝖙𝖍𝖎𝖝 𝕿𝖊𝖝𝖙
Facebook Italic text
There are two styles of Facebook Italic Text that this tool generates. They are Italic and Sans-Serif Italic. Both are available in the Normal and Bold versions. They are created using Mathematical Unicode characters. Italic ℎ character is PLANCK CONSTANT Unicode Character. Some examples of Italic text are 𝐼𝑡𝑎𝑙𝑖𝑐 & 𝑩𝒐𝒍𝒅 𝑰𝒕𝒂𝒍𝒊𝒄.
Facebook Wide Text
Are you looking for a long text having gaps in its alphabet which can be called Facebook wide text?. By using this cool text generator you can convert your simple text into such font:
Wide Font, 【 WIDE TEXT 】
Facebook Fancy Decorated Text:
Below are a few decorated texts that you might like. We have all these styles and more above for you to choose from.
If you want your text styled with cool symbols and stylish characters then use the decorated text styles. Some examples:
▁ ▂ ▃ ▅ ▆ ▇ █ Decorated Text █ ▇ ▆ ▅ ▃ ▂ ▁ , ꧁⭑⭒ Decorated Text ⭑⭒꧂
Facebook Circle Text and Square Text
Have you ever seen text written in bubbles or squares? It looks cool. Input text into the box above and copy some square and bubble fancy fonts. These are Unicode Latin Characters e.g:
Ⓒⓘⓡⓒⓛⓔ Ⓣⓔⓧⓣ , 🆂🆀🆄🅰🆁🅴 🆃🅴🆇🆃
Facebook Text with lines
Get underlined text or text with a double underline. You can also turn simple text into strikethrough text having Stroke Overlay. Samples of text with lines:
u̲n̲d̲e̲r̲l̲i̲n̲e̲ ̲t̲e̲x̲t̲, D̲o̲u̲b̲l̲e̲ U̲n̲d̲e̲r̲l̲i̲n̲e̲, T̶e̶x̶t̶ w̶i̶t̶h̶ S̶t̶r̶o̶k̶e̶ O̶v̶e̶r̶l̶a̶y̶
Facebook Text with Fancy Symbols
Text joined with some cool symbols gives an aesthetic look. Some symbols are placed along the text to make it look stylish. Here are some of them:
T⋆e⋆x⋆t⋆ w⋆i⋆t⋆h⋆ S⋆y⋆m⋆b⋆o⋆l⋆s⋆ , T☻e☻x☻t☻ w☻i☻t☻h☻ S☻m☻i☻l☻e☻y☻
Small text
Small or also known as the tiny text is smaller than normal text and it's the thing that makes it look unique. You can change any text to a smaller font style by putting it in the above box and copying the style from the below results from this page or using the Facebook Small Text Generator tool. Examples:
ˢᵐᵃˡˡ ᵀᵉˣᵗ , ᴄᴀᴘɪᴛᴀʟ ꜱᴍᴀʟʟ/ᴛɪɴʏ ᴛᴇxᴛ
Facebook Fancy Numbers to Copy & Paste:
To convert simple digits to fancy numbers this stylish font generator can also be utilized. It should be noted that not all styles have stylish numbers as the tool uses Unicode characters. To know what text styles implement on digits too, simply input the number in the text field. You will be able to see all the text styles below. If numbers are not available in a specific text style then you will see normal digits otherwise you will be able to see different styles. For example, this simple 123 number can be converted to ❶❷❸
Other than these regular digits are also decorated in some styles using some cool symbols.
More Facebook Stylish Fonts Copy & Paste Fonts
The list does not end here. The text generator currently has 80+ Facebook Font styles. You may find better Facebook copy & paste fonts for your text above. Just scroll down along the stylish cool texts to find a good one for you to copy.
How to change normal text to Facebook Stylish fonts?
To change your normal text to Facebook font, follow these steps:
STEP 1: Go to the Facebook Fonts website.
STEP 2: The first step is to type your text on the input section (Enter Your Text Here)
STEP 3: The second step is quite simple the moment you type any text it automatically going to generate lots of different types of Cool Fonts for you after that you just click on any Cool fonts which you want to copy in your system. The moment you click it's automatically going to copy it your system then you can paste anywhere you want whether it is Facebook, Twitter, Instagram, Email or text message.
STEP 4: If you like this website fonts for Facebook please share it.
Fonts For Facebook FAQ's
Below are a few questions with their answers about this Facebook Text Generator that you might find helpful:
What is a Facebook Font Generator?
Facebook Font Generator is a tool that converts the simple input text to different cool styles using Unicode symbols and emojis. Some alternative terms such as Facebook Font Changer, Facebook Cool text generator, Facebook Stylish font generator, etc. are also used for it.
How does this Facebook Stylish Text Generator work?
Facebook Stylish text maker uses different Unicode characters to create Facebook fancy text. It changes your inserted text to similar looking 'fancy' Unicode characters.
Which device is best for Facebook Fonts Generator?
Feel free to use any device to generate Facebook stylish Fonts. If a particular device does not support some Unicode characters try another one. This website is fully responsive and user-friendly. On the desktop, use the browser to generate text. Nothing different on a mobile, tablet, or mac book. Paste stylish text anywhere Unicode characters are supported.
Do I have to pay for a Facebook Fonts Changer?
Not at all this site is 100% ✅ FREE for you. Use this Facebook Fonts Changer anytime to transform your text. You can appreciate our efforts by sharing our website with friends & family.
How to generate a Facebook Font Name Style?
If you want to change the text style of your name then use this tool as a Facebook Font. Just input your name into the text field and out of many different output styles, press copy next to the Facebook Font Name Style you like.
How many Facebook Fonts variations do I have?
There are more than 80+ Font styles that you can choose from the Facebook cool fancy text. As you will scroll down you will be able to see different Facebook Font styles made with the help of different symbols.
Does this tool generate Facebook stylish text?
Definitely, this tool generates Facebook stylish text without any hassles.
Can I Use All these Fonts with Facebook Profile?
Definitely, you'll get to integrate it with all Facebook Profiles which will surely make all the things super-premium or others.
Can I Use All Cute Fonts for writing Facebook?
Absolutely, you can use all the Cute Fonts for writing Facebook .
Can I Use All Stylish Fonts for fb profile name?
Absolutely, you can use all the Stylish Fonts for fb profile name .
Definitely, this tool generates Facebook name font style without any hassles.
Is this website mobile friendly?
Yes, this website is mobile friendly and generates the same Facebook text like that on desktop.
Is Using This Facebook Font Generator Hamper my Privacy?
It won't hamper your privacy by using this super classy Facebook font generator. This will surely impress you with all the fantastic guides and privacy policies.
Is It Legal to Use Facebook Fonts Changer?
The Facebook Fonts Changer more than 80 unique facebook font styles. All these stylish text for facebook are free to use and always will be.